We at Old Union UMC voted in our Church Council meeting to move forward by going back to our "before Covid" worship service. This will start Sunday, June 13th. As our normal, It will be at 10:30am.
There will still be no Sunday School classes except for the Beginners and Primaries. They will go to their classes after the "Pastors's time with children".
Below is some information that will be helpful:
*There will be a central location to place your offerings.
The worship service will continue to be available on Old Union's website, YouTube channel and Facebook sometime during the afternoon/evening each Sunday.
Last but not least, if you are not feeling well or running a fever, Stay At Home.
Also, if you do not feel comfortable being around other people at this time, please feel free to worship in your own way at home.
Welcome to
Old Union United Methodist Church's Website
The vision of Old Union United Methodist Church is to be a lighthouse serving God and our community by leading others to Christ with prayer, being friendly, studying the bible, loving, praying for the sick, beautifying the church, and working together to support each other as family. We also strive to create growth, especially in our youth program, and be active and dynamic by putting God as the head of the church and using the talents with which we are blessed.
Church Services Times:
Sunday School:
9:30 am
(Opening Assembly in Sanctuary then Sunday School Classes)
Worship Service:
Group Meetings:
*United Methodist Women: 1st Tuesday at 6 pm (No Meetings in July and August, will resume in September)
*United Methodist Men: 1st Sunday (To Be Announced)
at 8:00 am
in the Fellowship Hall
*United Methodist Youth Ministry: To Be Announced
Address:
5077 Walker Mill Road
Sophia, NC 27350
Email:
oldunionumc@northstate.net

Old Union United Methodist Church, 5077 Walker Mill Road Sophia, NC will be having "To Mars and Beyond" In Person and Virtual Vacation Bible School. In Person is for Ages 2 through 12th grade and Virtual is For Children and Adults.
In Person will be Sunday, June 20th through Tuesday, June 22nd 6 pm until 7:30 pm. We will not be serving Supper or having Crafts. We will give everyone a snack bag at the end of each night. The Closing Program for In Person VBS will be Wednesday, June 23rd at 6 pm under the Shelter.
The Virtual VBS, meaning it will be totally online for 3 nights starting Monday, June 21st through Wednesday, June 23rd, will be a video loaded to our website, Facebook and YouTube each night at 6 pm..
Virtual is NOT just for children. It is for ADULTS also. We will be mailing out a packet, around a week ahead of time, to everyone that is planning to participate virtually.
We are asking everyone planning to be in person or virtual, including Adults, to register online starting Sunday, May 9th through Sunday, June 13th at
Everyone, including volunteers, has to register ahead of time if you are planning to be in person or virtually.
Please share this with anyone you know. This is not just for the Sophia community, virtual can be done from anywhere.
Thank you
Old Union United Methodist Church Vacation Bible School Committee.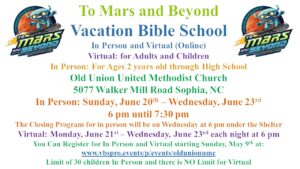 []