Old Union Church is looking to hire a pastor for the
Future of Old Union Church.
If you are interested in serving Old Union Church in the Future, Please contact Ricky Frazier at (336) 498-4437 or by email at frazierhome_jennie@aol.com .
Welcome to
Old Union United Methodist Church's Website
The vision of Old Union United Methodist Church is to be a lighthouse serving God and our community by leading others to Christ with prayer, being friendly, studying the bible, loving, praying for the sick, beautifying the church, and working together to support each other as family. We also strive to create growth, especially in our youth program, and be active and dynamic by putting God as the head of the church and using the talents with which we are blessed.
Church Services Times:
Worship Service:
Sunday School:
10:30 am
(Sunday School Classes then Closing Assembly in Sanctuary)
Group Meetings:
*United Women in Faith: 1st Tuesday at 6 pm (October 3rd)
*United Methodist Men: (To Be Announced)
*Youth Ministry: 4th Sunday from 5:30 pm until 7:30 pm
(September 24th) in the Fellowship Hall
Address:
5077 Walker Mill Road
Sophia, NC 27350
Email:
oldunionumc@northstate.net

Old Union United Methodist Church, 5077 Walker Mill Road, Sophia, NC will have a Halloween Party, Sponsored by the Young Adult Class. Saturday, October 28th, 5 pm until 8:30 pm in the Fellowship Hall and Church Grounds. There will be Food, Games, Hayride, Haunted Trail, Dessert Walk etc. Costume Contest will start at 5 pm sharp. Free for Adults and Children. For More Information: (336) 498-4776, (336) 498-7102 or
OldUnionUMC.org.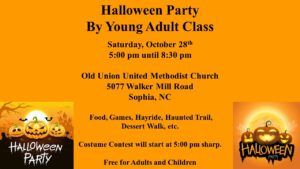 []